Give It Up, Let Them Loose
I've been an avid follower and lover of En Vogue for a number of years. I used to have fantasies of them just happening to be strolling by my job and us getting trapped in a closet (
well a bigger one than R. Kelly's...*LOL*
) I remember the summer of 1990 when they released their first single titled
Hold On
. Cindy. Dawn. Maxine. Terry. Four beauties taking America by storm each with their own unique soulful vocals. Their first album,
Born To Sing
, proved to be a platinum success. Hits from the album include the earlier mentioned
Hold On, Lies, You Don't Have To Worry, and Don't Go
. Their follow-up album in 1992, Funky Divas, proved to be even more of a hit and cemented the foursome as the divas to beat. The singles from that album include
Never Gonna Get It (My Loving), Giving Him Something He Can Feel, Free Your Mind, and Give It Up, Turn It Loose
. A year and a half later, they released a mini-EP that included the hit singles Runaway Love and Whatta Man (
their septet with Salt & Pepa
). They took a bit of a break, Cindy was off birthing babies while Terry released a solo album in 1995 that didn't quite take off. They came back strong in 1997 with the anthem
Don't Let Go
. (
I still get chills when I listen to that song.
) Sadly due to a combination of mismanagement and irreconcilable differences, Dawn left the group.
I remember being crushed and angry when she left. Out of the four ladies, she was the one I had the biggest crush on. Plus she had one of the more distinguishable voices. I couldn't see the group going on without her. But go on they did, though with less fanfare than
Funky Divas
.
EV3
(
oddly appropriate name for the remaining 3 members, though it was supposed to mean En Vogue album 3, Dawn even sung the words EV3 on some of the vocals of hers that stayed on the album.
) included the singles
Don't Let Go, Whatever, and Too Gone, Too Long.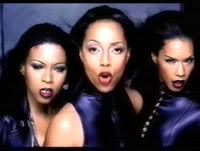 With just Cindy, Maxine, and Terry remaining, in 2000 they released Riddle. The album attempted the unique concept of including classical music themes in their 'love done me wrong' songs. Unfortunately the single by the same name was the only song that was a marginal hit for them. Riddle would also be their last music video before being dropped by their label. The screencap above was from that video.
Maxine quietly left the group in 2001 and new singer Amanda Cole took her spot. Amanda mostly did tours with the remaining members of En Vogue, singing a lot of their older hits. En Vogue released their first Christmas album in 2002, which featured Amanda. She was also featured in a video that was released in Germany in which the girls talk about life on En Vogue and the various turmoils that have happened within the group.
Amanda Cole left the group sometime in 2003. There wasn't much of a stir caused by her departure but word on the street was she left due to not being happy with the financial dealings of the group & wishing to pursue a solo career. I hear that solo career's going well for ya. (
I meant that in the most sarcastic not evil way. I have nothing but love for Amanda since she helped keep EV alive.
)
The remaining ladies of En Vogue decided to go independent and open their own label at some point. They bought in Rhona Bennett, whose claim to fame includes being a Mouseketter and singing with Jaime Foxx on his sitcom show. She also released a solo album of her own, which unfortunately was only sold overseas. In 2004, the group released Soul Flower. Unfortunately the album barely got any play, though I do own it, and managed to enjoy it, even without Dawn & Maxine's vocals. Rhona actually holds her own and has a unique soulful voice.
So what was the point on my rehashing En Vogue's history when you just as easily could've read it elsewhere. I'm getting to that. Right now.
Since Dawn and Maxine's departure, fans of the group longed for a reunion of the original four members. According to the latest news, it's very possible that the four ladies will indeed reunite. They've signed on to new management under a group called "The Firm" and according to Dawn, she'll release her 2nd album this fall while En Vogue releases their reunion album sometime in 2006. I really hope it's true, especially since the original foursome appeared in Stevie Wonder's latest single
What's The Fuss
looking fabolous as ever. The saga continues.